Impact Powerful Technologies

At the Dell Technologies Israel R&D site, you'll fuel your potential and make a true mark on world-changing innovation. Take your skills to the next level with our unique personalized learning programs. With the power of Dell Technologies, you'll experience compelling challenges in the worlds of Advanced Storage technologies, High Availability, Data Protection, Security, Cyber, Data Science, Cloud, and IT Transformation.
We're growing our teams.
Join us to work on the next generation of technology now:
Come and join us to take part in the development of an advanced Cloud console, for managing the company's products as a service.

Development in an advanced environment and at the forefront of global technology!

If you love Java Spring, dream of Kubernetes, Microservices, and want to work with insanely talented people - Dell Cloud should probably be your next journey.

PowerFlex is a highly distributed and parallel Software-defined system that utilizes cutting-edge homegrown IP to approach problems traditionally approachable only via designated Hardware.

If you love algorithms, dream of advanced data-structures, savor eureka moments, and want to work with insanely talented people - team PowerFlex should probably be your next career journey.

Dell Technologies Cloud Engineering Team
PowerFlex Engineering Team
Are you a student or a university graduate?
We're growing and are always looking for individuals who can help us achieve our goal of inspiring and driving human progress. Hiring at all levels, Dell Technologies has a variety of different open opportunities ranging from internships, graduate programs up to managerial or leadership roles.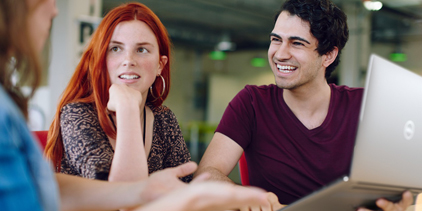 EMEA Sales Graduate Program

The 12-month graduate program is aimed at building future commercial leaders with two unique graduate opportunities as an Account Manager or Technical Sales Representative.

Learn More ›
Enhance Your Wellbeing

Work with a top team at one of our 4 welcoming environments in central locations in Herzliya, Glil Yam, Beer Sheva or Haifa, and live a balanced life alongside career success.
Explore Careers in Our Locations
Choose a balanced, cool environment in Herzliya, Glilyam, Beersheva or Haifa, and live a fulfilling life alongside your career. Are you ready?

Join Our Talent Network

Stay connected with our latest events, company news and career opportunities that match your interests.
Making the World a Better Place
We believe in sharing our assets and capabilities with the community, in order to make a change.
We have a variety of volunteering opportunities waiting for you!
Social Impact

Activities supporting our community vision of promoting technology education in the social and geographical periphery of Israel, through activities from personal coaching sessions to empowering group sessions, group bike riding, surfing and more.
Creating an inclusive workplace
As a member of Dell Israel, you will have the opportunity to join four different Employee Resource Groups (ERGs).
ERGs are communities that connect team members with shared interests, backgrounds or beliefs to create an inclusive culture:
| | | | | |
| --- | --- | --- | --- | --- |
| | | | | |
| | | | | |
| | A strong worldwide community aiming to make Dell the employer of choice for all by creating a supportive and inclusive environment, enabling women to achieve their goals at any point in their journey. | | A group for inspiring imagination, kickstarting innovation and winning together, with activities from technology innovation contests, Dell Power collaborative game and Dell-themed escape rooms to running innovation days. | |
| | Providing an inclusive LGBT+ friendly environment, encouraging Dell employees to take actions and support the LGBT cause, and collaborate with the leading LGBT+ organizations in Israel to make a real change for the benefit of the LGBT community. | | A group striving for environmental sustainability by engaging Dell team members in educational opportunities, volunteer activities, and best practices that power the possible. | |
| | | |
| --- | --- | --- |
| | Mosaic is Dell's Employee Resource Group (ERG) that works to build a culturally intelligent workforce that conditions us to show respect in our interactions with our multi-cultural customers, partners, and team members while enhancing their own effectiveness as an inspiring leader in a culturally diverse business environment. | |
Meet our recruitment team
Connect with Dell Technologies Israel recruiters: